The new spring term 2022 at the Academy of Culinary Arts Cambodia has started off well with 44 new future culinary artists, full of motivation, emotions, and expectations.
Our ACAC team is thrilled to see you all joining our international community of students, faculty, admins, and alumni and it is our goal and mission to ensure that you have an inspired, challenged, and enlightened journey with us. We hope you participate in all the great learning opportunities that the ACAC has to offer, both in the classroom and beyond. It will be a life-changing time for you that will shape the way you interact with the world from here forward.
In these 2 upcoming years you will grow personally and professionally, and you can expect:
1. Hands-on training
Education that is theoretical and practical is at the heart of the ACAC's approach. As a student, you will first learn the why and how and then practice, practice, practice. This is what makes a great industry professional!
2. Interesting and passionate colleagues
No two students at the ACAC are the same. Everyone comes from a different family, a different background, and a different community. Each one of you is motivated by different values and has a different dream, goal, and reason for studying at the Academy. And those differences are a great strength. Each of you ACAC students is passionate and interesting, loves food and is eager to learn and succeed. Diversity at the Academy is motivating and exciting!
3. International faculty with decades of combined experience
The ACAC's eleven chef faculty have nearly 100 years of combined experience. They have travelled far and wide and practised with the best. Even more importantly, they believe in and are passionate about what they do. And now, they are passing their passion and expertise on to you ACAC students.
4. Internationally recognized curriculum
The ACAC's 2-year diploma program is recognized by ASEAN and the global community. Our curriculum, admission standards, academic regulations and operations are administrated by the Swiss Hotel Management School Lucerne (SHL) which guarantees our students the very best culinary arts education in Cambodia. When you gain your education with us, we will help you shoot for the stars.
5. Skilled workers in a booming industry
What does Cambodia and the world need most? A skilled workforce – especially in the tourism and hospitality sectors. During your culinary studies, you will benefit from our extensive network of renowned industry partners, such as the Sofitel Phnom Penh Phokeethra, Cambodia, the Domaine de Clairefontaine, France, or the Jumeirah Creekside, Dubai. Develop your professional edge with us, then go out and impact your world.
6. Make your dream come true.
Whether it's becoming a three-star Michelin chef, opening your own restaurant, or becoming a senior manager in an international hotel chain, the ACAC will equip you to pursue and achieve your dreams.
There might be moments during your learning journey in which you will doubt yourself and the career path you've chosen. There might be days of struggle, unforeseen challenges, and a lack of motivation. Sometimes you might think you will fail. But always remember, the only way you can fail is if you give up. And every time you fail, you come one step closer to success.
Believe in yourself, be courageous, work hard and work smart, give it your best, and your dreams will come to life. The success is yours.
From the entire ACAC team, we wish you all a great semester start and begin of your culinary journey!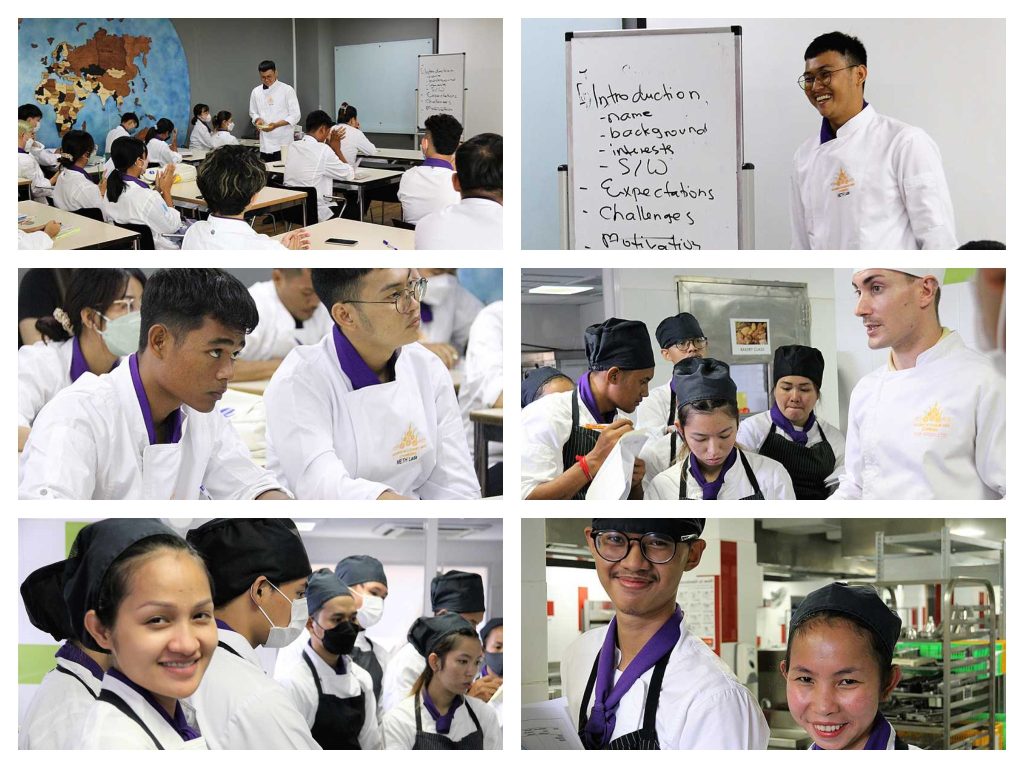 About Academy of Culinary Arts Cambodia (ACAC)
The Academy of Culinary Arts Cambodia (ACAC) offers students in Cambodia premier education for a first-class career with two-year diploma program in culinary arts which is internationally recognized by the Swiss Hotel Management Academy Lucerne (SHL) and ASEAN.
Academy of Culinary Arts Cambodia (ACAC), "Live in Cambodia, study in Switzerland!"
About The Naomi Tami Memorial Scholarship Fund
The Naomi Tami Scholarship Memorial Fund was established by the Tami family to honour the memory of Naomi Laura Tami who passed away on May 7, 2013, at the early age of 23. In keeping with Naomi's love of life and passion, the Naomi Tami Scholarship Memorial Fund provides the opportunity for students who are committed to excellence, love the culinary arts, and who would not otherwise have the opportunity due to financial constraints, to study tuition-paid at the Academy of Culinary Arts Cambodia.
About Shift 360 Foundation
Our 360 degree approach seeks to engage the private sector, governments, academic and religious leaders in order to bring innovative and creative solutions to poverty.
At Shift 360 Foundation, we facilitate market-based solutions that address critical social inequalities in the Greater Mekong Subregion by:
GAINFUL EMPLOYMENT: Catalyzing fair and sustainable employment.
ECONOMIC GROWTH: Improving access to services essential to economic growth.
INFLUENCING DECISION MAKERS: Influencing decision makers to adopt a common good approach.
Donate Shift 360 Foundation at https://shift360.ch/donations/
Facebook: https://web.facebook.com/shift360ch
Instagram: https://www.instagram.com/shift360foundationch/
LinkedIn: https://kh.linkedin.com/company/shift-360-ch
YouTube: https://www.youtube.com/channel/UCOSo5kPeTSpYxgzdet7qkzQ?sub_confirmation=1
Naomi Memorial Fund : https://www.naomimemorialfund.com/
Academy of Culinary Arts Cambodia (ACAC): https://acac.edu.kh/
#shift360ch
#Shift360Foundation
#SocialCapitalRedefined
#HumanCapital
#GainfulEmployment
#InfluenceLeaders
#NaomiTamiFund
#NaomiTamiScholarship
#NaomiTamiMemorialScholarshipFund
#OpportunityForEveryone
#ScholarshipCambodia
#acac
#AcademyofCulinaryArtsCambodia
#CulinaryArtsCambodia