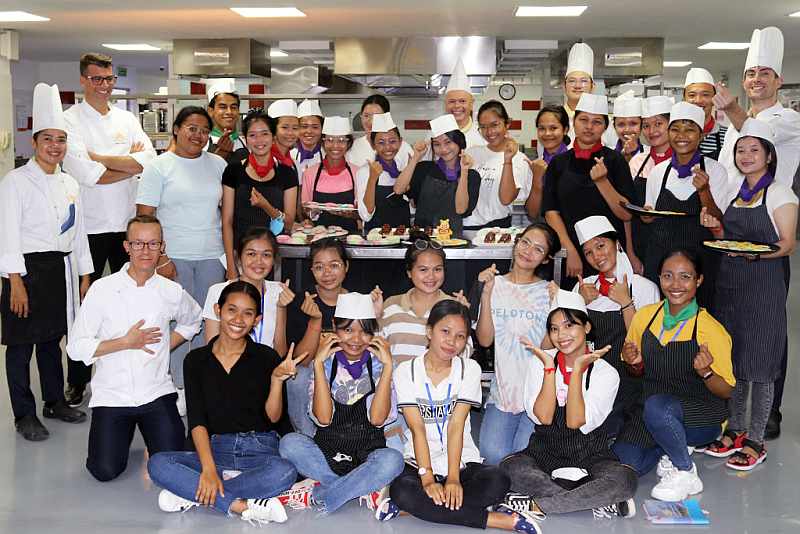 Accompanied by their school director Mr. Douch Makara and the program manager Mr. Yon Meakchan, twenty-five young high school students from the Happy Chandara School participated in a morning workshop provided by the ACAC's chefs faculty team giving them an insight into the chef's profession and a career perspective for their after high school life.
After a Q and A round and a facility tour, the students were divided into three groups to work with the chefs, get a hands-on-training and prepare various preparations to be served at lunch.
The Happy Chandara School was founded 12 years ago by the French NGO Toutes à l'école and is committed to the promotion of quality education for every woman in Cambodia through the free education of disadvantaged girls from primary school to high school.
Mr. Meakchan during the workshop mentioned the importance of providing support to young students facing financial struggles and that in Cambodia, scholarships provide an important pathway which enables young students to achieve both secondary and university education.
20-year-old Koeut Sreyaun, a former Happy Chandara student who graduated in 2020 and then joined the ACAC to pursue her dream to engage in a career within the culinary field, referring to Mr. Meakchan's statement adds:
"Receiving scholarships changed my life completely. As someone who grew up in the rural settings of the province, in a family facing financial challenges and without any external support, I wouldn't be where I am now, working on finishing my internship in a high-end hospitality establishment and looking forward to joining the industry once my studies at the ACAC will be completed."
Sreyaun also remembers: "When I was a little girl, my parents couldn't afford to send me to school, but I was in the very lucky position to become a Happy Chandara student and then be given a second scholarship to continue my further education at the Academy of Culinary Arts Cambodia. The Naomi Tami Memorial Scholarship Fund helps me to pursue my dream, become a professional chef and make an international career in hospitality."
The Naomi Tami Memorial Scholarship Fund was established by the Tami family to honour the memory of Naomi Laura Tami who passed away at the early age of twenty-three. In keeping with Naomi's love of life and passion, the Naomi Tami Memorial Scholarship Fund provides the opportunity for students who are committed to excellence, love the culinary arts, and who would not otherwise have the opportunity due to financial constraints, to study tuition-paid at the Academy of Culinary Arts Cambodia.
The Dean of the ACAC, Mr. Bruno Cardone, expressed that education is the best way out of poverty: "Not every single person without an educational background is living in poverty. But most of those people living in poverty today missed a basic education. At the Academy, we believe that education should be available for every individual showing commitment and willingness to learn, grow and thrive. This, regardless of their financial background, gender, religion, colour, nationality or beliefs."
Having a background as a professional chef himself, Mr. Cardone further mentioned the importance of education in the perspective of later career opportunities: "Our priority is to develop and enhance the skills our students will need in their future professional environment. We ensure our graduates receive the skillset needed to be successful in today's hospitality industry. The goal is to enable them to be ready and directly hired by hotels and restaurants facilitating their start in the chef profession. Joining the hospitality industry will open up a broad choice of career opportunities and the possibility of travelling, experiencing new cultures and embarking into a vibrant and talent-oriented environment."
A little tired after the cooking sessions in the kitchens but full of joy, the Happy Chandara girls' feedback on the workshop was very positive and ended with happy smiles.
Chhorn Socheata, who was part of the hot kitchen team and prepared grilled beef and vegetables today, mentioned that her dream is to become a chef and make a career in Switzerland. With the support of the Naomi Tami Memorial Scholarship Fund, this dream might soon turn into reality.
Learn more about the scholarship fund requirements to become an ACAC student.
This article was originally published on https://acac.edu.kh/happy-chandara-students-visit-the-acac-for-a-workshop/