Please tell us about how you came to the ACAC.
I came to know about the ACAC and the Naomi Tami Scholarship Program through a friend of mine. We used to work together – it was an office job at a library – and he knew that this was not the right occupation for me. I've told him many times about my passion and my dream of becoming a chef. Cooking has always been an important part in my life, and I've helped my grandparents selling food from a very young age. And so, one day, my friend came in and told me he found this culinary academy online. We both enrolled.
What was your life like before studying at the ACAC?
My life has always been a constant challenge. Coming from Battambang, a provincial town in Cambodia, my family didn't have much access and I almost dropped out of school to support my mother with our family business when my father passed away during my 11th grade at high school. But I was also aware of the importance of education and with help of friends and teachers I managed to finish my studies. I then moved to the capital Phnom Penh to seek for a better future and found a job as librarian which I mentioned before.
What was the biggest challenge you were facing at the time of enrollment?
My main challenge at that time was to give up my job as librarian. Not because of the job itself but because the decision was financially difficult for me. To give up my steady income meant giving up financial security. On the other hand, I knew that this was a once-in-a-lifetime opportunity to fulfill my dream.
Do you remember your first days at the ACAC? How did you feel about being a student?
During my first days at the ACAC, I remember feeling excited and nervous at the same time. Everything was new and I just got to know all those new classmates and chef lecturers.
What have you learned so far?
I have learnt many things over the past 6 months even though we had very little time to practice in the kitchen due to the outbreak of the COVID-19 pandemic in Phnom Penh. During this period, I've learnt about culinary theory, food safety and hygiene, purchasing, food knowledge and also how to write a proper CV.

What inspires or motivates you?
My biggest inspiration in life is my mother. She grew up during the Khmer Rouge Regime which was incredibly tough, and she was working very hard since she was little. She was not able to accomplish any education but nevertheless she raised my siblings and myself with so much love and care. She is a very strong woman who has been mother and father to us at the same time. That's why I admire her so much.
What are your objectives for the future?
Oh, there are many! First, I want to become a professional chef to gain the required knowledge. Later on, I would like to run food-related businesses, have a professional consultancy to help young students finding their right career path, write cookbooks, and live and travel around the world.
If you had not been able to study at the ACAC through a scholarship, what path do you think your life and career would have taken?
Had it not been for the scholarship, I think I would have continued working as an office staff trying so save up my meagre wages to one day fulfill my dream. But I doubt I would ever be able to get as far as I'm able to get now, having this study place.
Would you ever consider coming back to the ACAC as an instructor and pass on your knowledge to the next generation of students?
Yes, I would. After reaching my goals and gaining more experience I would definitely like to use this knowledge and share it with others.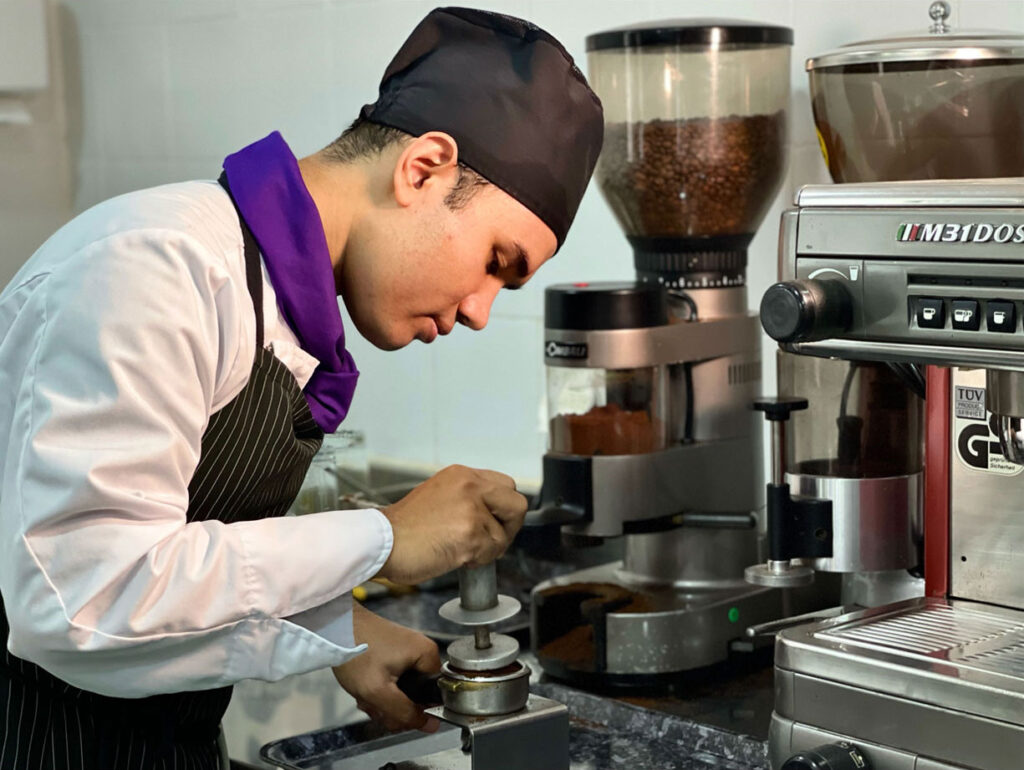 About The Naomi Tami Memorial Scholarship Fund
The Naomi Tami Scholarship Memorial Fund was established by the Tami family to honour the memory of Naomi Laura Tami who passed away on May 7, 2013, at the early age of 23. In keeping with Naomi's love of life and passion, the Naomi Tami Scholarship Memorial Fund provides the opportunity for students who are committed to excellence, love the culinary arts, and who would not otherwise have the opportunity due to financial constraints, to study tuition-paid at the Academy of Culinary Arts Cambodia.
How to give
Your financial gifts to the Naomi Tami Scholarship Memorial Fund enable Shift360 to expand scholarship opportunities for the Academy of Culinary Arts Cambodia and provide more students with financial constraints the chance for a brighter future.
JOIN US:
Naomi Tami Memorial Scholarship Fund: https://www.naomimemorialfund.com/
Shift 360 Foundation: https://shift360.ch/naomi-tami-scholarship/
Academy of Culinary Arts Cambodia (ACAC): https://acac.edu.kh/