It's Saturday, early in the morning, and 20 excited hobby cooks are tying their aprons and putting on their chef hats, ready to explore the secrets of bread making and sweet creations, on the first day of their long-awaited basic bakery and bakery short course.
On today's learning schedule are vanilla cookies, chocolate chips, lemon meringue, cream cheese scones and frostings, and the kitchen stations are getting busy with kneading dough, squeezing lemon and a sweet, delicious smell is filling the air while the ovens are getting heated.
Ms. Pich Dalin, is smiling while she explains: "I have been waiting for this short course opportunity for so long and I am very happy to be here today. I love cooking and especially baking, but as I'm busy with work on weekdays, it is not possible for me to study full time at the moment. Now that this course is running on Saturday mornings, I'm able to participate, deepen my knowledge and learn from those very talented pastry and bakery chefs here who are sharing their expertise with us."
Interview with Pastry Chef Bunlong
1 – What is the difference between culinary arts, bakery, and pastry?
"Culinary arts" is a generic term that includes bakery and pastry. But you could say that a Chef prepares more savory items such as meats, seafood, and vegetables for appetizers and main courses, whereas a Pastry or Bakery Chef is more about desserts and breads.
Bakery Chefs make both, sweet and savory dishes and they can specialize in certain areas such as breads, pastries, pizzas, quiches, cakes, and pies but also éclairs or cookies. The point is this branch relies mainly on the use of an oven to bake the food.
A Pastry Chef is someone who is trained and skilled in the making of pastries and desserts. Some pastry items may include cakes, macarons, cupcakes, pies, tortes, ice cream and pralines or mousses.
2 – What inspired you to pursue pastry professionally?
When I was younger, in my hometown Kampot, there was a little family business on the corner near our home, where my mom used to order cakes for our birthdays or other special occasions. I was always fascinated by how beautiful and precise those pastries were and of course, as every child, I loved the flavor of sweetness. Step by step, I developed more interest which turned into a passion, and you would find me doing research and practicing at home all the time. And it is still that way. I continue being excited and thinking about the learning process I still have ahead of me.
3 – What advice would you offer to young pastry chefs just starting out?
First and foremost, you must have the passion and the commitment to work hard in order to succeed in the kitchen. And then, be open-minded, try new things and expose yourself. Get as much experience as you can and taste as many things as you can.
4 – What are your top tips for pastry success?
You can't go anywhere without hard work. That is important. And as mentioned before, this really goes together with your passion. You also need a portion of talent. You need to have creativity and a natural sense of balancing the ingredients.
5 – Would you recommend culinary school to aspiring chefs?
Yes. If I'd hire someone to work with me, I'd definitely prefer someone with a culinary school background. On one hand, it shows that this person is taking this career path seriously and on the other hand, the foundations are set. It is timesaving to work with a person who already understands the terms and the technologies.
After 3 hours and a half, the first day of training is slowly coming to an end and the participants are proudly presenting their sweet creations.
While savoring her first, carefully prepared, lemon meringue, Ms. Sar Marina says:
"I'm already looking forward to being here again next Saturday and I'll definitely be joining the next course, the advanced bakery & pastry short course."
Are you also interested in joining our next short course training? Learn more https://acac.edu.kh/short-courses/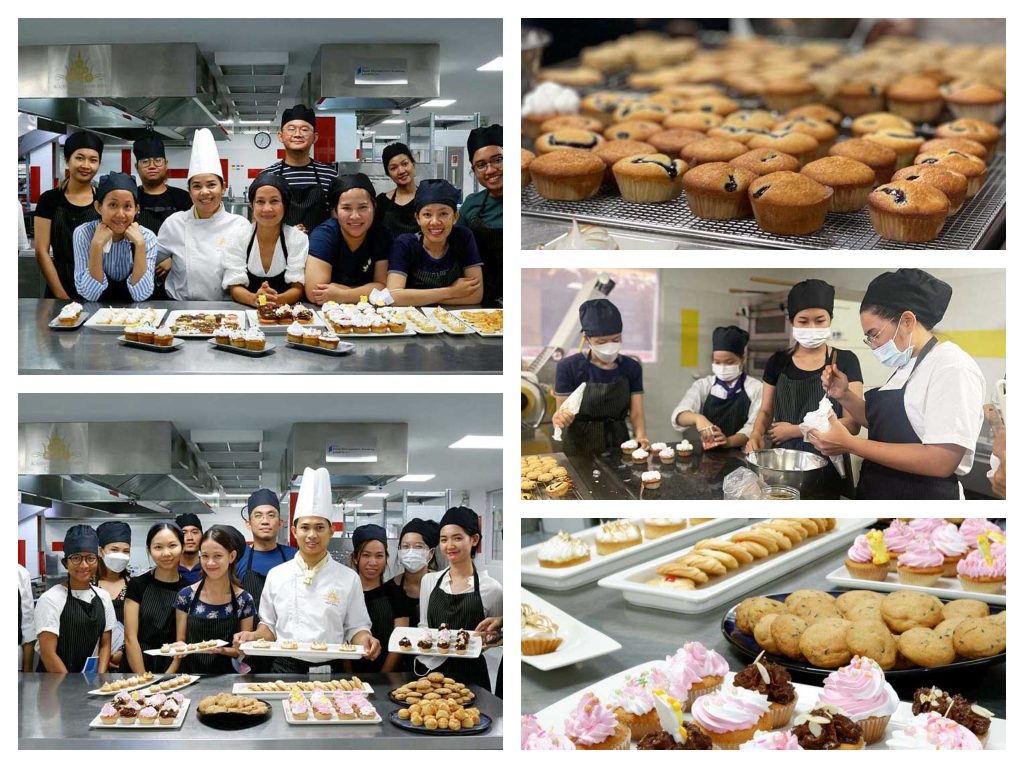 About Academy of Culinary Arts Cambodia (ACAC)
The Academy of Culinary Arts Cambodia (ACAC) offers students in Cambodia premier education for a first-class career with two-year diploma program in culinary arts which is internationally recognized by the Swiss Hotel Management Academy Lucerne (SHL) and ASEAN.
Academy of Culinary Arts Cambodia (ACAC), "Live in Cambodia, study in Switzerland!"
About The Naomi Tami Memorial Scholarship Fund
The Naomi Tami Scholarship Memorial Fund was established by the Tami family to honour the memory of Naomi Laura Tami who passed away on May 7, 2013, at the early age of 23. In keeping with Naomi's love of life and passion, the Naomi Tami Scholarship Memorial Fund provides the opportunity for students who are committed to excellence, love the culinary arts, and who would not otherwise have the opportunity due to financial constraints, to study tuition-paid at the Academy of Culinary Arts Cambodia.
About Shift 360 Foundation
Our 360 degree approach seeks to engage the private sector, governments, academic and religious leaders in order to bring innovative and creative solutions to poverty.
At Shift 360 Foundation, we facilitate market-based solutions that address critical social inequalities in the Greater Mekong Subregion by:
GAINFUL EMPLOYMENT: Catalyzing fair and sustainable employment.
ECONOMIC GROWTH: Improving access to services essential to economic growth.
INFLUENCING DECISION MAKERS: Influencing decision makers to adopt a common good approach.
Donate Shift 360 Foundation at https://shift360.ch/donations/
Facebook: https://web.facebook.com/shift360ch
Instagram: https://www.instagram.com/shift360foundationch/
LinkedIn: https://kh.linkedin.com/company/shift-360-ch
YouTube: https://www.youtube.com/channel/UCOSo5kPeTSpYxgzdet7qkzQ?sub_confirmation=1
Naomi Memorial Fund : https://www.naomimemorialfund.com/
Academy of Culinary Arts Cambodia (ACAC): https://acac.edu.kh/
#shift360ch
#Shift360Foundation
#SocialCapitalRedefined
#HumanCapital
#GainfulEmployment
#InfluenceLeaders
#NaomiTamiFund
#NaomiTamiScholarship
#NaomiTamiMemorialScholarshipFund
#OpportunityForEveryone
#ScholarshipCambodia
#acac
#AcademyofCulinaryArtsCambodia
#CulinaryArtsCambodia